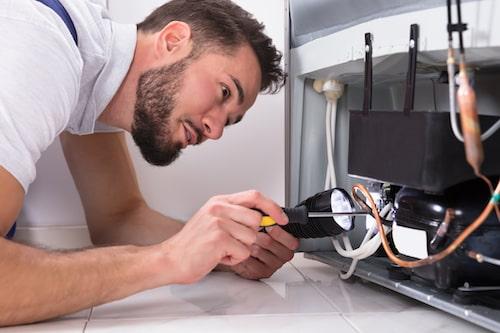 Antioch Refrigeration Repair
Refrigeration units such as walk-in coolers and home refrigerators are a vital part of keeping food fresh and safe to eat. When they stop working or aren't cooling effectively, you could lose hundreds of dollars in perished food or even have to temporarily shut down your busy restaurant due to improperly stored cold food and beverages. At CES-TECH Heating & Cooling, we have years of experience fixing broken refrigeration units and specialize in both residential and commercial services.
Call Us Now If...
Your refrigerator is not cold enough.
Refrigeration unit won't turn on.
Electric readouts and other components are not functioning properly.
Freezer is overcooling, resulting in ice buildup. 
Noisy operation.
Defective or inoperable door seals.
And Much More
At CES-TECH Heating & Cooling, we understand the importance of a properly functioning refrigeration unit. Our team is available for emergency refrigeration repairs to get your refrigerator, walk-in coolers, beverage display coolers, and more up and running as quickly as possible. From broken door seals to extensive compressor damage, our team handles it all!
If the refrigeration units at your Antioch home or business are not functioning properly, call the refrigeration specialists today at 925-854-4933 for immediate service.